IT'S SHOWTIME AT THE DRIVE-IN
We have created a unique live music experience by allowing our fans to hang out in a socially distant environment in a drive-in style setting. Fans enjoy their favorite live artists through a state-of-the-art sound, light, and video system provided by Showtime Sound, LLC.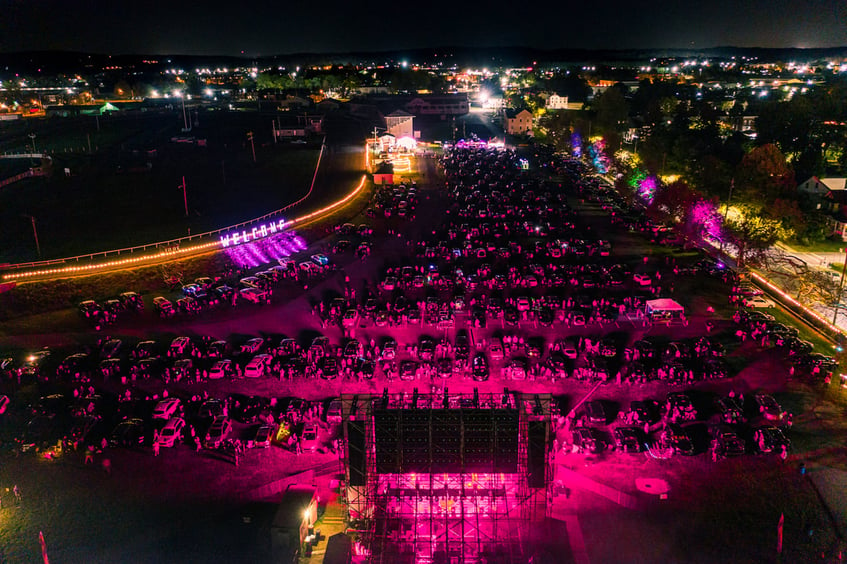 Thanks for a great spring/summer season at the drive-in!
​
Stayed tuned for future show
announcements ...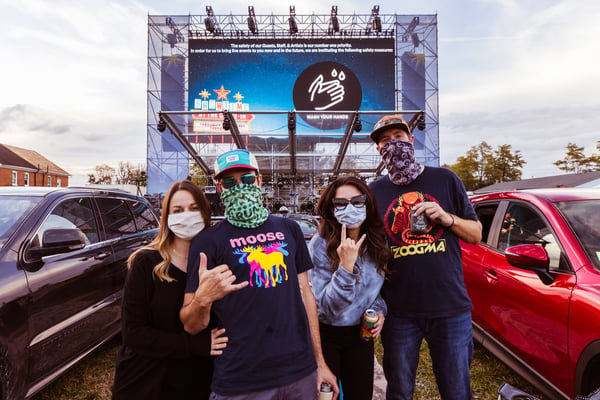 SAFETY FIRST
The safety of our Guests, Staff & Artists is our number one priority. Not only are we complying with the most current health and safety standards per local jurisdictions and state regulations in order to protect everyone involved, we've added several enhanced safety measures to ensure everyone remains safe and comfortable.

In order for us to bring live music to you now and in the future, we are instituting the following safety measures. These events will only work if everyone participates and follows every safety guideline outlined below.

We require that all guests wear a mask when entering the vendor village or a restroom facility. Masks are not required in your social quad nor are they required when you leave your social quad provided you have been vaccinated. Based on the honor system, we require that anyone who has not been vaccinated to wear a mask at all times outside of your social quad.

Guests are asked to socially distance by 6 feet whenever you step away from your vehicle and to only step away from your vehicle to use the restroom or to go to concessions.
6 Foot Social Distant Markers will be placed in front of restrooms and concessions.
Hand Sanitizer Stations will be placed conveniently throughout the event grounds.
All restrooms will be sanitized prior to your arrival and throughout the event. Hand washing Stations will be available at every restroom.
Contactless Entry – we will scan your ticket through your mobile device at the gate.
Staff – all staff are required to wear masks at all times, all staff will be temperature checked before each shift, shared employee equipment will be sanitized before and after every shift.
Spaces limited to a maximum of 5 guests.
No Smoking permitted outside of your vehicle.
​LOCATION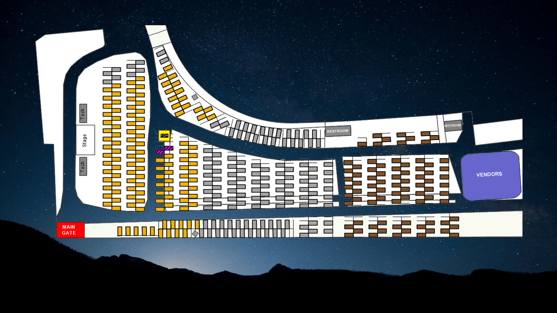 FAQS
You have questions. We have answers.
GENERAL QUESTIONS
Q: What can I bring?A:
You may bring food, cans, coolers, chairs, water bottles, binoculars, non-professional cameras and a smile on your face.
Q: What

can't

I bring?A:
No outside alcohol, no glass, no audio or video recording, no cameras with detachable lenses, no drones, no fireworks, no grills, no gas heaters, no illegal drugs, no laser pointers, no tarps, no E-Z Ups, no tents, no canopies, no weapons and of course no bad attitudes.
Q: Will there be a sound system?A:
Yes, there will be a state-of-the-art sound system that will amplify the live music to all locations around the venue.
Q: If I end up pretty far from the stage, will I be able to see the band?A:
We are glad you asked, because we have a high-definition 20' x 40' IMAG LED screen.
Q: How many people can I have hanging out at my designated space in front of my car?A:
You may have a maximum of five (5) people in your designated space. If we find more than five (5) people at your space, we will ask you to reduce it down to five (5). Five (5) is the magic number.
Q: Can I wander around and check out the concert from locations other than the vehicle I arrived in?A:
No wandering around please… you may leave your vehicle to use the restroom or to purchase food, beverages or merchandise, but don't be a wanderer.
Q: Will there be food and beverages available?A:
Yes, there will be
local food trucks and local brewery selections
. If you haven't had a chance to support local businesses, the time is now! Please the the
VENDORS
page on this website for more details.
Q: Can I leave the venue and come back?A:
For the safety of everyone on site, there is a strict no re-entry policy.
Q: Will there be FM Transmitters?A:
Yes, there is an FM Transmitter option if you choose to remain in your car. You may tune into the show on our designated station on your FM radio. If you are outside of your car we suggest that you enjoy the sound that will be amplified from the stage through our state-of-the-art sound system.
Q: What type of vehicles are permitted?A:
Standard Cars, SUVs, Pick-Up Trucks and Mini-Vans.
Q: What type of vehicles are

prohibited?A:
Sprinter Vans, RVs, Large Trucks, any vehicle over 7' in height, any vehicle over 18' in length.
Q: Can I enjoy the concert from outside of my car?A:
Yes, you may hang out in your social quad, a socially distanced 8' x 17' space to the right of your vehicle.
Q: Can I sit in my flat-bed pick-up truck?A:
No, you must hang out in your social quad, a socially distanced 8' x 17' space to the right of your vehicle.
Q: Can I sit on top of my car?A:
No, you may not. Really?
Q: How are parking spaces assigned?A:
Parking spaces are available on a first-come first-serve basis within your ticketing section.
Q: Will I be parked right next to other cars?A:
No, there will be an open space of a safe 8' to the right and to the left of your vehicle.
Q: Can I bring an E-Z Up?A:
No,
E-Z Ups, tents, canopies, etc are not permitted at the shows as they would block the view for other attendees.
Q: Can we bring our pet?A:
Service animals only. Otherwise, no pets allowed. Pet costumes are ok.
TICKETING QUESTIONS
Q: How does ticketing work?A:
Tickets are sold by carload, not by individual. Tickets are sold one (1) per carload for a maximum of four (4) patrons per car with the option to add a fifth (5) person for an additional fee. Everyone must be in a legal seat with a seat belt.
Q: Does everyone in my vehicle need a ticket?A:
No, we only issue one ticket per carload, up to four (4) people, with the option for an additional fee to add a fifth (5) person.
Q: Where do I purchase a ticket?A:
You may ONLY purchase tickets online.
Click here
to buy tickets now. There will not be an onsite Box Office. We strongly encourage you to buy tickets early as there are a limited number of spaces available.
Q: What is your refund policy?A:
All sales are final, folks. No refunds. The show is rain or shine.
Q: Can persons in our party arrive at separate times?A:
​No, everyone within your party within your vehicle must arrive in your vehicle at the same time. If someone in your party arrives after the vehicle ticket has been scanned, they will not be permitted to enter.
Q: Can we leave the premises and return?A:
For the safety of the guests onsite, there is a strict no re-entry policy.
Q: Can we purchase tickets on site at a Box Office?A:
Tickets may only be purchased online
. There will not be an on-site Box Office. If there are tickets still available on the evening of the show, you will be able to purchase a vehicle ticket from your smartphone while you are on the road as you are approaching the venue. Don't wait until the last minute!
Q: Is the show rain or shine?A:
Yes, the show is rain or shine. The show must go on!
Q: How do we get the closest space?A:
Start by buying your ticket, like, right now. The earlier you buy a ticket, the better your chances of getting your preferred section. Then, we advise that you arrive early as cars will be parked closest to the stage within their section (Gold, Silver, Bronze) and by order of arrival.
Q: Do you have a disclaimer for COVID-19?A:
Yes, by purchasing a ticket, you have agreed to this disclaimer:
An inherent risk of exposure to COVID-19 exists in any place where people gather. COVID-19 is an extremely contagious disease that can lead to severe illness and death. You assume all risks, hazards, and dangers arising from or relating in any way to the risk of contracting COVID-19 or any other communicable disease or illness, or a bacteria, virus or other pathogen capable of causing a communicable disease or illness, whether occurring before, during, or after the event, however caused or contracted, and voluntarily waive all claims and potential claims against AutoFlex Entertainment, All Good Presents, Walther Productions Inc, Baltimore Soundstage, Showtime Sound LLC, Frederick County Fairgrounds, Event Providers, and their affiliated companies relating to such risks.
THANK YOU TO OUR SPONSORS!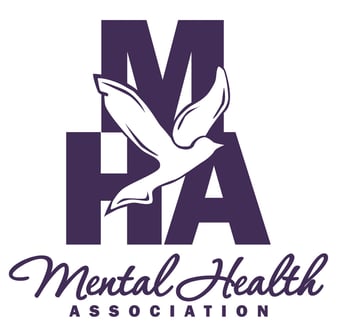 The Mental Health Association of Frederick County
​
​
It's Showtime at The Drive In concert series is presented by the Mental Health Association of Frederick County
. We can't imagine a more perfect presenting sponsor for these beautiful events to come. Saving lives, saving families, and making our community whole – that's MHA. Through education, advocacy, empowerment, and treatment, MHA helps everyone face their challenges and make lasting positive changes.