November, 2023
Showtime President Scott Tydings was featured in this month's L-Acoustics' FOH Spotlight, an interview-style installment on their social media platforms. Scott discusses the early days of his career, his experiences working with L-Acoustics products around the globe, and the future of Showtime. Thank you, L-Acoustics, for this fantastic piece!
FOH Spotlight Part I:
"Being a drummer, I was very passionate. When I started running sound, I became just as passionate about mixing the whole band. It seems drummers make great engineers because they aren't worried about getting attention. They are OK with sitting back & focusing on the entire mix."

Showtime Sound LLC's President Scott Tydings started out with a steady beat of hard work, perseverance and musicality. Since then, he has ensured FOH duties for some of the world's biggest live acts. Let's discover his journey in our latest #FOHSpotlight!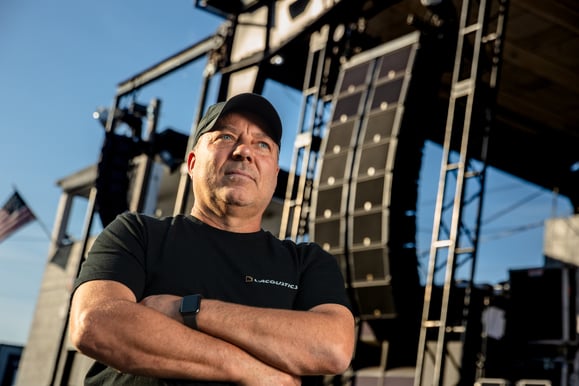 𝐓𝐞𝐥𝐥 𝐮𝐬 𝐚𝐛𝐨𝐮𝐭 𝐲𝐨𝐮𝐫𝐬𝐞𝐥𝐟

I'm from Pasadena, Maryland. I started playing drums in a band - we needed a sound system. No one wanted to run it, so I did! I ran it for bands that would open for us. I got the reputation as the 15 yr old who could really mix. I started making more money doing sound than I was playing drums!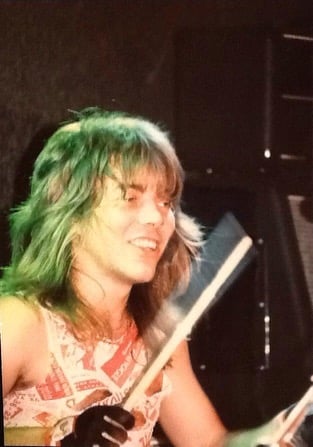 𝐖𝐡𝐚𝐭 𝐚𝐫𝐞 𝐲𝐨𝐮𝐫 𝐦𝐚𝐢𝐧 𝐩𝐫𝐨𝐣𝐞𝐜𝐭𝐬 𝐚𝐭 𝐒𝐡𝐨𝐰𝐭𝐢𝐦𝐞?

We work with touring comedians, bands, university ceremonies, corp. events & festivals. We also do arena systems when bands have a one-off/fly-date and need to duplicate their touring rig. Partnerships with Live Nation, AEG and Upfront Promotions keep us busy.

𝐖𝐡𝐚𝐭 𝐰𝐚𝐬 𝐲𝐨𝐮𝐫 '𝐛𝐢𝐠 𝐛𝐫𝐞𝐚𝐤' 𝐢𝐧 𝐭𝐡𝐞 𝐢𝐧𝐝𝐮𝐬𝐭𝐫𝐲?

My friend/mentor Trueman "Monty" Montfort was running sound for Mannekin, a big local rock band in Maryland at the time. He told me he was leaving and that I would be perfect for the job. I auditioned with 15 other guys and got it! Mannekin toured all over the US. I worked with them for over 7 yrs as FOH/PM & System Tech. Monty himself went on to mix Michael Bolton and now Kenny G for over 35 years.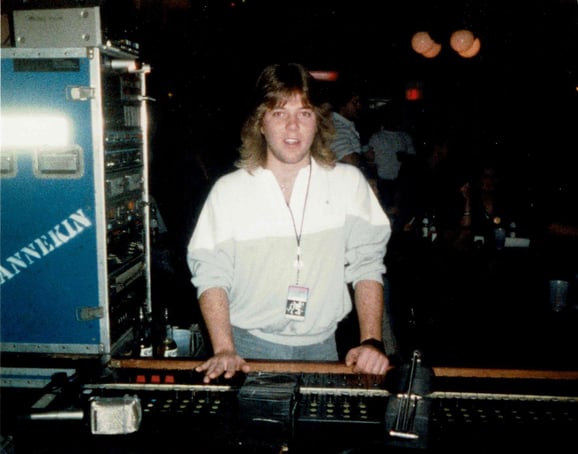 𝐈𝐬 𝐭𝐡𝐚𝐭 𝐰𝐡𝐞𝐧 𝐲𝐨𝐮 𝐦𝐚𝐝𝐞 𝐚𝐮𝐝𝐢𝐨 𝐲𝐨𝐮𝐫 𝐜𝐚𝐫𝐞𝐞𝐫?

Not quite! After touring until 91, I worked at Baltimore Gas & Electric as a high voltage cable splicer. I also started playing drums in Catch 22, a pop rock band. Since I had money from work, I got a nice sound system. I started using it for my band as Showtime in 96. In 2002, I developed carpal tunnel and had difficulty playing. My band's agent was looking for a sound engineer for 'Vs. The Earth', a new band. I took that gig and met Shawn, the drummer, who ended up joining as my VP.

𝐈𝐭 𝐚𝐥𝐥 𝐬𝐭𝐚𝐫𝐭𝐬 𝐜𝐨𝐦𝐢𝐧𝐠 𝐭𝐨𝐠𝐞𝐭𝐡𝐞𝐫…

We became house provider at a venue called Stingers, did small festivals and worked with local acts like The Reagan Years, Great Train Robbery, Kelly Bell Band & Jah Works. Relationships were formed with promoters & larger venues. Our 1st national tour as Showtime was Mac Miller in 2010/11. From that point on, it just took off - almost doubling every year.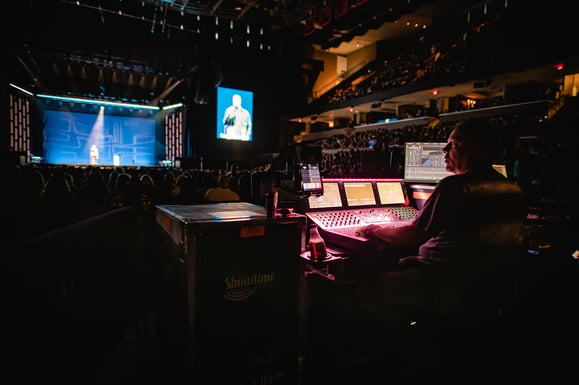 𝐖𝐡𝐞𝐧 𝐝𝐢𝐝 𝐲𝐨𝐮 𝐟𝐢𝐫𝐬𝐭 𝐡𝐞𝐚𝐫 𝐚𝐧 𝐋-𝐀𝐜𝐨𝐮𝐬𝐭𝐢𝐜𝐬 𝐬𝐲𝐬𝐭𝐞𝐦?

In 2007, we used a V-DOSC system at Cal Ripken Jr Stadium for a music festival. We had cross-rented the system from another company and I mixed the openers. My 1st thought was: this is the best sounding rig I have ever heard!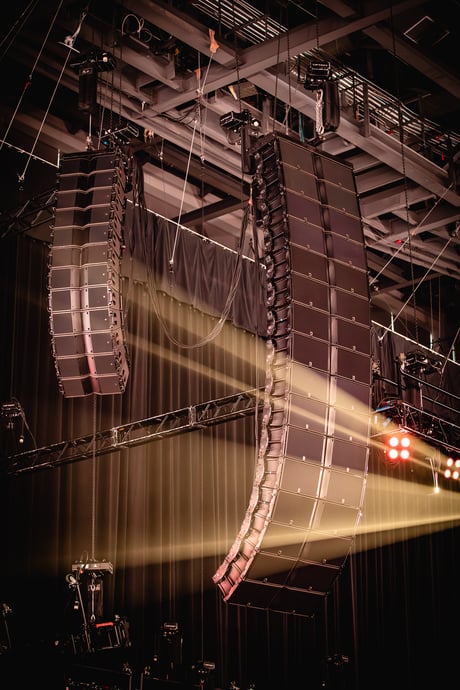 FOH Spotlight Part II:
"Our company motto is my life lesson: you're only as good as your last event. The audience & client don't care about the thousands of amazing shows you have done in the past, only the event they paid for and are attending…it needs to be perfect, every time, without exception." From mixing local bands to touring with major comedians, a sense for great audio comes naturally to Scott Tydings, President of Showtime Sound LLC. Here's Part II of our #FOHSpotlight!

𝐖𝐡𝐚𝐭 𝐝𝐨 𝐲𝐨𝐮 𝐝𝐞𝐩𝐥𝐨𝐲 𝐟𝐨𝐫 𝐦𝐚𝐣𝐨𝐫 𝐜𝐨𝐦𝐞𝐝𝐲 𝐚𝐜𝐭𝐬?
The same as I would use for a rock show - without as many subs! K1, K2, Kara II, X8, X15, KS28 & X15. 5XT serve as my FOH nearfields.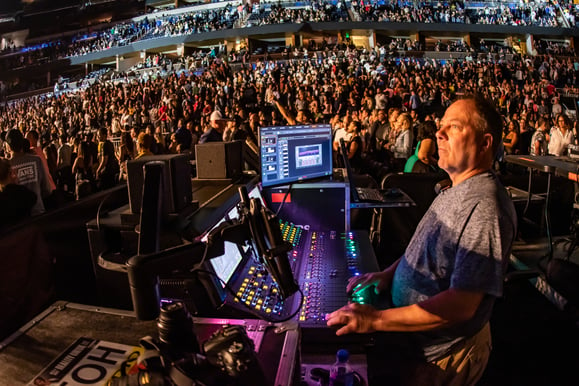 𝐓𝐡𝐚𝐭'𝐬 𝐚 𝐬𝐞𝐫𝐢𝐨𝐮𝐬 𝐫𝐢𝐠 𝐟𝐨𝐫 𝐚 𝐨𝐧𝐞-𝐦𝐚𝐧 𝐬𝐡𝐨𝐰!
I was personally responsible for meeting with Live Nation's comedy division to show them the value in having the same equipment/crew every night. This elevated the level of production of comedy acts. The result: an enhanced fan experience with tour caliber kit. We helped make comedians rock stars!

𝐖𝐡𝐚𝐭'𝐬 𝐬𝐩𝐞𝐜𝐢𝐟𝐢𝐜 𝐚𝐛𝐨𝐮𝐭 𝐦𝐢𝐱𝐢𝐧𝐠 𝐚 𝐥𝐢𝐯𝐞 𝐜𝐨𝐦𝐞𝐝𝐲 𝐚𝐜𝐭?
It's completely different. With a band, the audience is coming because they already know the words to the songs. For comedy, every word, nuance & breath is crucial to make the joke work.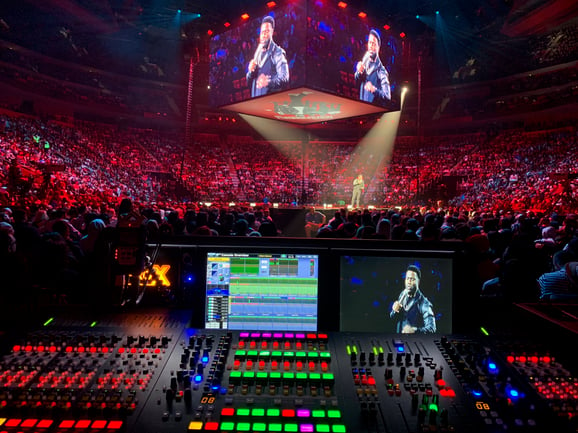 𝐇𝐨𝐰 𝐝𝐨𝐞𝐬 𝐊 𝐒𝐞𝐫𝐢𝐞𝐬 𝐡𝐞𝐥𝐩 𝐦𝐚𝐤𝐞 𝐢𝐭 𝐚𝐥𝐥 𝐰𝐨𝐫𝐤?
The rear rejection of K2 really keeps the energy moving forward, which isn't always the case with other products. This allows for high gain before feedback which is key for spoken word & comedians who don't always have great mic technique.

𝐖𝐡𝐚𝐭 𝐚𝐫𝐞 𝐲𝐨𝐮𝐫 𝐟𝐚𝐯𝐨𝐫𝐢𝐭𝐞 𝐬𝐞𝐭𝐮𝐩𝐬 𝐨𝐟 𝐚𝐥𝐥-𝐭𝐢𝐦𝐞?
The 148 box in the round design for the Kevin Hart "Irresponsible Tour" was one of my favorites. I designed in Soundvision and when the tour went overseas, I emailed my SV file to our L-Acoustics partners and we deployed the same setup globally.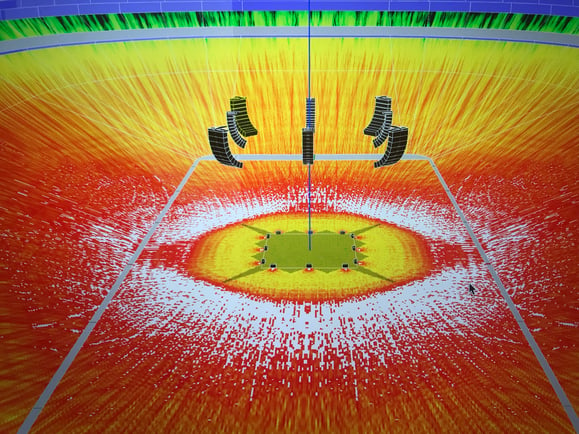 𝐘𝐨𝐮𝐫 𝐟𝐢𝐫𝐬𝐭 𝐢𝐦𝐩𝐫𝐞𝐬𝐬𝐢𝐨𝐧𝐬 𝐨𝐟 𝐋-𝐈𝐒𝐀?
We were excited about it before I even heard it! I had the chance to mix in L-ISA at Resorts World Theatre in Las Vegas for Kevin's mini residency and Reality Check comedy special shoot for Peacock TV. I was blown away.

𝐖𝐡𝐞𝐫𝐞 𝐝𝐨 𝐲𝐨𝐮 𝐬𝐞𝐞 𝐒𝐡𝐨𝐰𝐭𝐢𝐦𝐞 𝐢𝐧 𝐭𝐞𝐧 𝐲𝐞𝐚𝐫𝐬?
With L-ISA creating a hyperreal experience for our clients and their audiences, we expect it to help expand our business. The sky is the limit for new creative minds!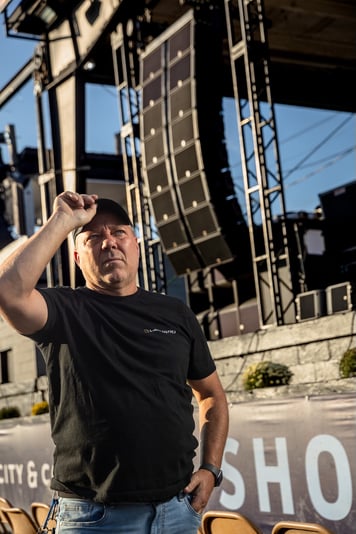 𝐖𝐡𝐚𝐭 𝐚𝐝𝐯𝐢𝐜𝐞 𝐰𝐨𝐮𝐥𝐝 𝐲𝐨𝐮 𝐠𝐢𝐯𝐞 𝐬𝐨𝐦𝐞𝐨𝐧𝐞 𝐣𝐮𝐬𝐭 𝐬𝐭𝐚𝐫𝐭𝐢𝐧𝐠 𝐨𝐮𝐭 𝐢𝐧 𝐭𝐡𝐞 𝐢𝐧𝐝𝐮𝐬𝐭𝐫𝐲?
Get in with a small local company to learn the basics. Try to get as much board time as possible. If you're motivated, buddy up with some experienced engineers and offer to stay after hours with them. Buy them some beers and see what you can learn. When you do get your big break, be ready, be confident, and be humble. If you do a good job, you will definitely get more opportunities!
*Photo Credits – Pete Redel, Liz Peterson, Scott Tydings, Wayne Camlin
*Original posts can be found at https://www.linkedin.com/company/l-acoustics/