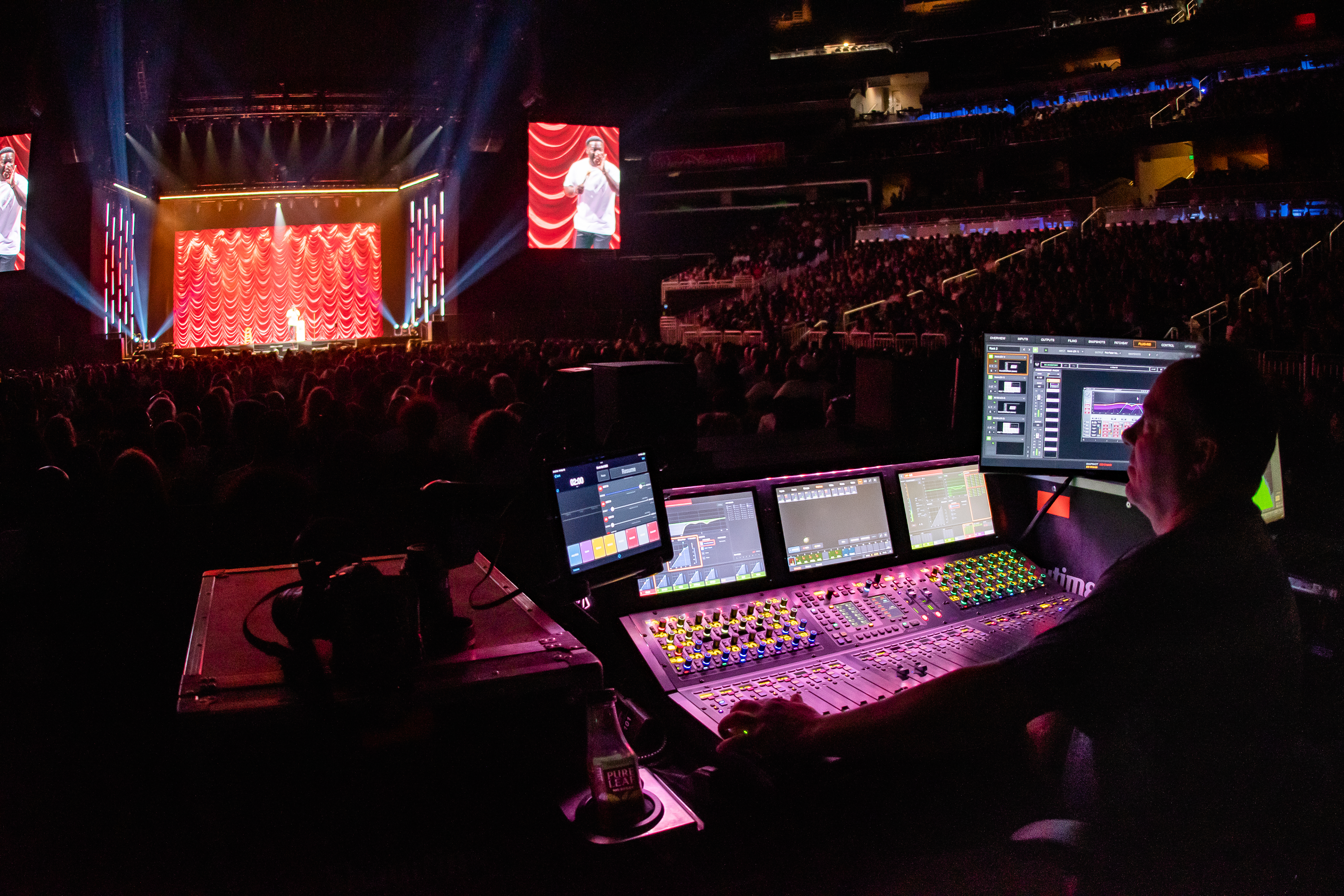 Article from PLSN Magazine • Kevin M. Mitchell • October 2022
"Our team specializes in production integration," says Showtime President/CEO Scott Tydings. "That means we can design, build, and move your event or tour from large clubs to touring arenas to outdoor stadiums. From start to finish, we're your team to get it done."
Showtime is also in it for the laughs—literally. In addition to its work in several markets, including touring, corporate events, and installations, they have carved out quite the niche in the comedy world. Currently Tydings is out as Production Manager and FOH engineer with one of comedy's biggest stars, Kevin Hart. Showtime is also supporting John Mulaney and Bill Burr, and in the past has toured with Amy Schumer, Louis CK, and done work with Chris Rock.
The company started out as Showtime Sound LLC in a two-car garage, but quickly grew into other production disciplines, "Today we are an event solution company, handling audio, staging, video, lighting, and even backline musical instrumental rentals," says Showtime's Director of Operations and Production, Brian Linnemann.
Footloose Beginnings
Tydings notes he was a touring audio engineer "carefree and foot loose" until the early 1990s when he "came home, started a family, and got a real job." But he couldn't exercise the live event bug out of his system, so he invested in some gear and started doing local work, primarily with bands. One he mixed for was Vs. the Earth, where he struck up a friendship with drummer Shawn Hocherl. "I had done some work with Scott when I wasn't touring, and then in 2006, we founded Showtime because we saw a need for high-end event production services based in the Frederick, MD area," says Hocherl. The company branched into lighting and video to respond to customers. "Every aspect of our company develops the same way: Clients ask for it, and we get it to them," Tydings adds. "In the beginning, we would sub out for something like video, but then we realized we could do it so much better ourselves. That's how we got into lighting, video, trucking, backstage management—and now we're even supplying furniture for backstage. We were going into arenas not even finding a decent chair or a nice couch worthy of an A-list superstar." He pauses and then adds with a laugh: "Next on my list—catering!"
"Right now, we're focused on expanding our corporate division," says Linnemann. That area was growing nicely pre-pandemic, and now it's a bit of a scramble as "we spend half our time trying to track down former clients and seeing what we can do for them. But there are a lot of opportunities for corporate work in our Baltimore/Washington region."
"Speaking of the pandemic, we want to thank our core team of employees that stuck with us at Showtime through it all," adds Hocherl. "That's the reason why we are still here and able to continue to successfully serve our clients. Gear is great—but for us—everything we achieve is because of our people."
The Showtime team is also a scrappy bunch: When one of their truck drivers on the Mulaney tour had a sudden death in the family and needed time off, Linnemann himself got on a plane and went to St. Louis to drive the truck to its next stop, Kansas City. "I joke that we all wear all the hats," he says with a laugh.
Strong Inventory
Along with Tydings and Hocherl, around 20 employees plus many subcontractors keep Showtime running smoothly, working out of a 19,500 sq. ft. warehouse in Frederick, MD, which houses a strong inventory ready to address client needs. "We have strategic partnerships with the best manufacturers to provide clients with the best solutions including L-Acoustics, Telefunken, AVID, Absen, Chauvet, MA Lighting, and AC Lighting," Tydings says.
Staying current, Showtime recently invested in grandMA 3 consoles, and in Astera LED-based lighting gear including their Titan Tube product. "We're trying to get Astera more in the corporate world," Linnemann adds. "There is a lot of raving about their products." Upping their video inventory is a priority which they met with investments in Absen Polaris PL3.9 Pro (XL) LED video panels. "That's a great product because it is IP65 rated so it works inside and outside, even in bad weather." Among Showtime's inventory is also a Stageline SL100 mobile stage. They also have their own wood shop and build their own road cases, recently investing in a CNC router to expand that division. "Today we are completely turnkey," says Tydings. "We have made the best investments in people and equipment to execute superior experiences."
Rock Star Comedians
Matching gear with client is part of Showtime's expertise. Those Absen video panels are ideal for their touringcomedy clients, like Hart and Mulaney who can sell out Madison Square Garden for three nights. Understanding how that gear works for the client is also important: while a 16:9 aspect ratio (landscape) is the norm for a rock show, for standup comedy a portrait aspect ratio works better. "That way you can really see all the energy coming from a performer like Kevin Hart, as every part of his body is used to set up that punch line," Linnemann says.
Tydings, who has developed a close working relationship with Hart, is out for a fourth time with him. "He is methodical," he states. "He is a workhorse who has a routine that works well." Developing that routine is an 18-month process. Hart starts a new tour by working up bits way in advance, and when he has 45-minutes' worth, Tydings gets the call. They then hit the smaller theaters and build out the show further until it's close to the 90-minute mark and ready for the arenas. Conversations are had, and Tydings starts giving Hart production options to choose from. "Kevin is more production-wise than most comedians; he's able to put on a rock show without a band."
Previous tours of Hart's have indeed been rock-concert size, the last one needing 13 trucks carrying a stage with trap doors, pyro, and 360 LED lights. For this current one, the comedian elected to go for a simpler, more intimate take. The setup includes a motorized 40' wide x 30' tallred Austrian curtain and custom 40' x 24' deep Marley black stage floor that features a heart-shaped logo. There's a Follow-Me Performer Tracking followspot system used with two Robe Esprite fixtures downstage, and a third one above, able to always follow Hart as he moves all over the stage. This is particularly important as the stage lighting overall is dimmer than on previous shows. Tydings, with Showtime's support, has certainly met the inherent challenge of ensuring that a single guy with a microphone on a stage connects with those sitting in the far reaches of stadium or arena.
The Showtime Advantage
Showtime's client list reflects the array of market segments they support, including the Maryland Special Olympics, the Supernova International Ska Festival, and the Taste of Country Music Festival. Installs include Modell Performing Arts Center at the Lyric and Pier Six Pavilion, both in Baltimore. Corporate clients include the Baltimore Ravens and Salesforce. They were also there for University of Maryland's Commencement Ceremony for 12,000 graduates held at Capital One Field at Maryland Stadium. And when a client needed high resolution LED scoring tables for the Central Intercollegiate Athletic Association (CIAA®) Basketball Tournament, the Showtime team did a custom build featuring Absen LED panels to fit the event's specific needs. From construction, to content review, to courtside action, Showtime delivered the LED scoring table solution. Showtime also handled the North American Timeless tour of II Divo that was heavy with Chauvet Professional fixtures. The touring rig included a collection of 22 Rogue R2 Wash fixtures, along with 20 Rogue R1 FX-B multi-beam moving heads, and 7 STRIKE 4 multi-format blinder/strobe lights.
"There are a lot of mega corporations out there where you're the client, but that comes with a number," says Linnemann, explaining what he sees as the Showtime advantage. "We can get to know clients better, learn what has worked with them in the past, and help them make their events the best they can be. We're small enough to be able to design and create a production package around what their priorities are. We give our clients a much more focused experience."