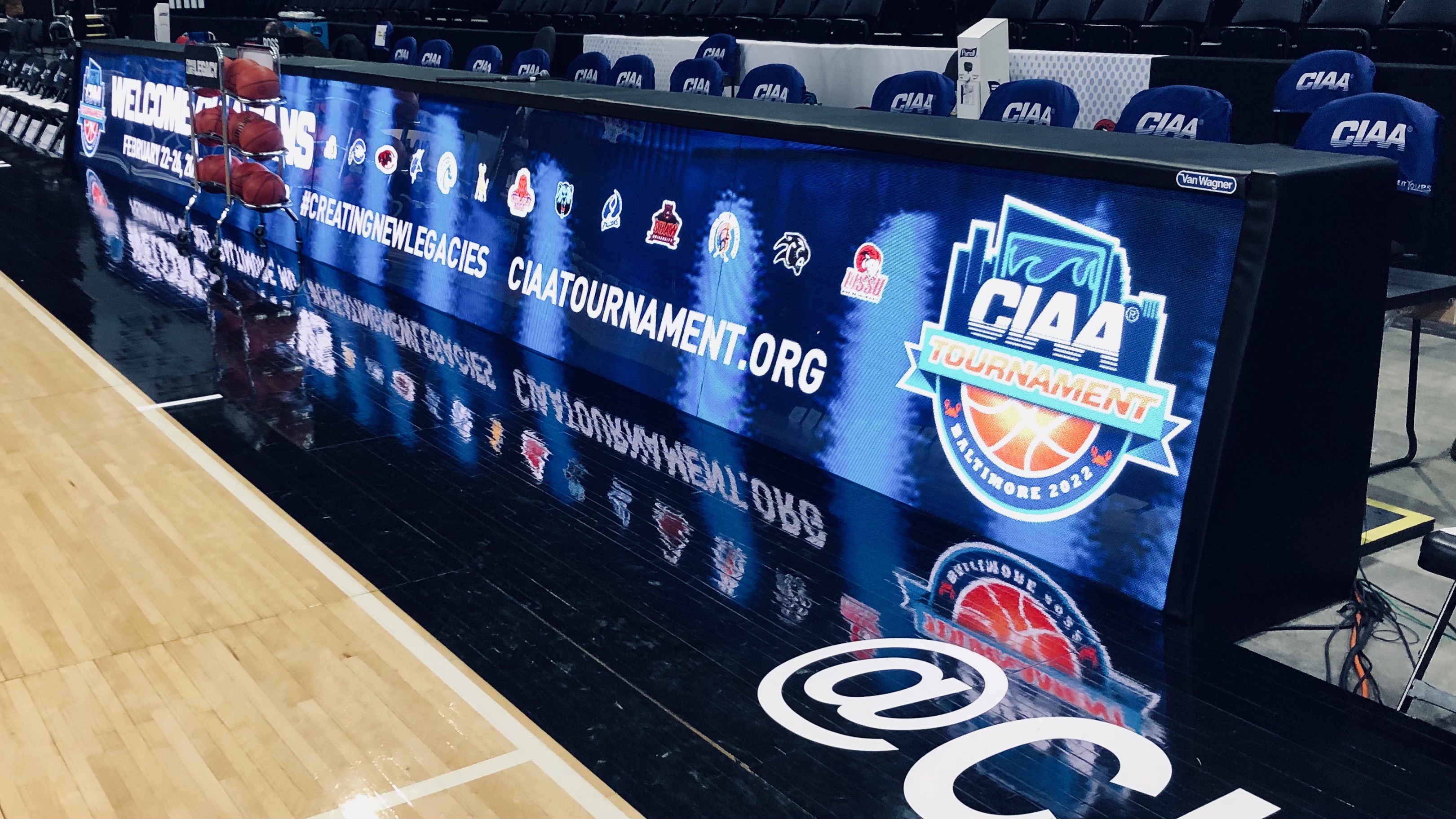 March, 2022
BALTIMORE, MD – Plato once said, "Necessity is the mother of invention." Showtime Sound LLC couldn't agree more. When its client needed high resolution LED scoring tables for the upcoming CIAA Basketball Tournament, the Showtime team got to work on a custom build to fit the event's specific needs. From construction, to content review, to courtside action, this LED scoring table reinvented the Absen Polaris PL3.9 walls.
The Central Intercollegiate Athletic Association (CIAA) is one of America's oldest athletic conferences. This latest tournament was held February 22-26, 2022 at Royal Farms Arena in Baltimore, MD. The CIAA describes this annual event as "the quintessential cultural experience offering official events appealing to a diverse demographic of alumni and fans, to include educational programming, community engagement, Fan Fest, Super Saturday, step-shows, and most importantly, 22 action-packed basketball games. It's also one of few basketball tournaments in the nation that features men and women competitions in the same facility, during the same week."
The Showtime team easily met the tournament's audio needs by relying on their L-Acoustics equipment, using a combination of K2, Arc II and X8 speaker enclosures. However, the scoring table needed a bit more attention. Showtime's Video Department Manager, Galen Newell, explained the custom building process saying, "The tables were built in the shop for testing purposes and photos were also sent to our client for approval." Newell elaborated, "We integrated our Absen PL 3.9 Pro XL Panels into the tables. These LED panels were driven by primary and backup NovaStar R5 processors in a redundant loop. This way, if one cable were to go bad, there would still be a redundant feed to the LED table. We were able to feed content to the processors using a primary and backup Resolume media server." Brian Linnemann, Showtime's Director of Operations and Production, remarked on the importance of using these specific products for the build. Linnemann explained, "The big selling point of our table is that the 3.9-mm pixel pitch is far superior to the 8 or 10-mm pixel pitch that is standard for most manufacturers' scoring tables. The smaller pixel pitch allows for higher-resolution content to help deliver the sponsors' messages."
With awesome courtside seats, these panels needed some extra padding to protect both the athletes and the LED. Custom padding with a vinyl surface protected the panels, while maintaining a clean and appealing aesthetic.