BALTIMORE
– Music is indeed the universal language. Clear
proof of that truism becomes readily apparent every time Il Divo takes the stage. A multinational classical crossover group created by Simon Cowell, the quartet not only includes artists from different countries, it also happily transcends national boundaries in its appeal to music lovers. Since its formation in December 2003, the group has sold over 30 million albums worldwide and has chalked up platinum hits in over 35 different countries.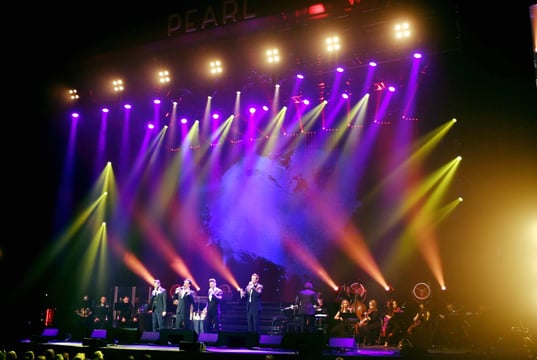 On the North American leg of their current Timeless tour, the mellifluous group is being supported by a smoothly flowing and versatile lightshow anchored by CHAUVET Professional fixtures, supplied by Showtime Sound LLC. A collection of 22 Rogue R2 Wash fixtures, along with 20 Rogue R1 FX-B units and seven STRIKE 4 multi-formatted lights, are used in the touring rig.
Flown on the upstage and midstage truss and hung on vertical truss towers, the Rogue R2 Wash fixtures bathe the stage in even fields of richly colored light. While the overhead RGBW units bathe the stage in a variety of colors to reflect different moods, their 12° to 49° zoom range allows changes in the coverage area throughout each show to create a variety of different looks.
The linear Rogue R1 FX-B fixtures are used to frame the stage. With their infinite pan and tilt and five independently controlled moving heads on eachfixture, these units serve to provide a level of eye candy not typically associated with a classical concert, something that delights and surprises audiences.
Also engaging audiences are the versatile STRIKE 4 fixtures. Flown on upstage truss, these high-output units provide audience lighting, while also engendering a sense of engagement with their warm white light.
Thanks to the versatility of their rig, Il Divo is able to touch audiences with an enchanting and immersive show on every stop of the band's tour, despite variations in venue size and stage configurations. Like the sound of the band itself, the Showtime Sound-supplied rig is transcending boundaries to provide a unifying experience.